World Congress of Families Leadership Memo: November 14, 2017
WCF Regional Conferences Unite and Equip Leaders Worldwide
WCF St Lucia Caribbean Conference November 17-18
WCF Malawi African Conference November 29-30
WCF Regional Conferences Unite and Equip Leaders Worldwide
World Congress of Families (WCF) Regional Conferences bring the natural family message to the leaders and grassroots delegates, worldwide. Through them, we help to educate, train, and mobilize local campaigns, policies, and projects.
At WCF conferences and events, delegates learn how and why it is important to protect the natural family as the fundamental and sustainable unit of society and defend the sanctity and dignity of all human life from conception to natural death.  Besides the upcoming conferences in St. Lucia and Malawi, earlier in the year, we've had conferences in Lagos (Nigeria), Paris, and Antigua.
Some of the locations of past regional conferences include: Ottawa, Santa Cruz (Bolivia), Salta (Argentina), Trinidad, Barbados, London, Nairobi, Belgrade, Moldova, Manilla, Washington, DC., Phoenix, Kiev, Salt Lake City, Melbourne, Tbilisi (Georgia), South Africa, and Moscow.
Download a copy of the World Congress of Families (WCF) Manual on "How to Organize a WCF Regional Conference."
WCF St. Lucia Caribbean Conference November 17-18
The fifth World Congress of Families' Caribbean Regional Conference – The Family and Development: Strong Families, Prosperous Nations – will take place at The Johnson Centre, Rodney Bay, St. Lucia, November 17-18.

The conference is organized by The Caribbean Centre for Family and Human Rights(CARIFAM), founded by Sarah-Flood- Beaubrun, MP, with the support of Rebekah Ali-Gouveia, WCF Caribbean Coordinator.  The Opening Ceremony will be attended by various dignitaries and include remarks by Fr. Linus Clovis (Chm. of CARIFAM Board of Directors), Hon. Lennard Montoute (Minister for Social Equity and Justice in the government of St. Lucia), Hon. Sarah Flood-Beaubrun, Rebekah Ali-Gouveia, Sharon Slater (President, Family Watch International) and Don Feder (World Congress of Families Coalitions Director and Coordinator of Regional Conferences).
Speeches at general sessions will include: Understanding Sexualized Attachments and Homosexuality (Floyd Godfrey), The Caribbean/Saint Lucian Family (Dr. Julie Xavier,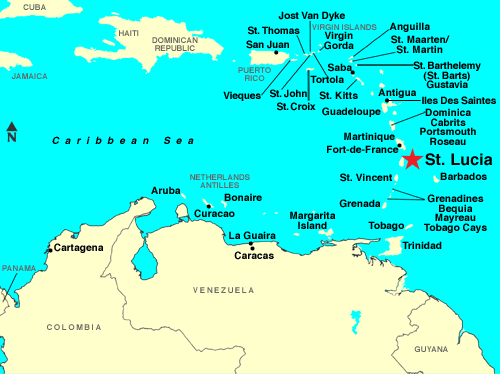 UN Development Program), Why Marriage Matters (Don Feder), Stand for the Family (Sharon Slater), How the Erosion of Fundamental Rights Threatens the Family (Prof. Richard Weikart, historian, California State University – via Skype), The African Experience (Theresa Okafor, WCF African Coordinator), The Five Fatal Inconsistencies in Gender Theory (Glenn Stanton, Focus on the Family), Demographic Reality in the Caribbean (Godfrey St. Bernard, University of the West Indies), Demographic Reality in St. Lucia (Ted St, Catherine, statistician and demographer), "Two is Better than Two Many" is Leaving Jamaica with Too Few (Philippa Davies, Jamaica Coalition for a Healthy Society), Fertility Education and Medical Management (Anna Halpine, World Youth Alliance), "The Unexpected Pregnancy (Kim Olsen, Journey-2- Freedom), Family Capital and the SDGs/The Family and Sustainable Development Goals (Susan Roylance, International Organization for the Family), Addressing HIV/AIDS in the Caribbean (Prof. Brendan Bain, HIV/AIDS expert), SDGs and Comprehensive Sexuality Education (Sharon Slater), "The Tender Warrior – and The Role of Fathers in Family and Nation Building (Rev. Philip Gumbs, chm of the Caribbean conf. of the Church of God).
There will also be an Interactive Panel (with speakers from Anguilla, Antigua, Belize, Barbados, St. Lucia, Jamaica, Trinidad and Kenya), The Way Forward: A Frank Discussion Among Clergy and The Way Forward: A Frank Discussion Among Youth.
For more information, email sarahfloodbeaubrun@carifam.org  or visit www.carifam.org.
WCF African Regional Conference in Malawi, Nov. 29-30
The World Congress of Families African Regional Conference in Malawi (The African Fami
ly and Cultural Colonialism), will take place at the Sunbird Capital Hotel in Lilongwe, November 29-30. The organizing committee includes: Ann Kioko (founder African Organization for the Family), Pastor Zacc Kawalala (Word is Alive Ministries) and Moira Chimombo(SAFE Africa).
The Opening Prayer will be offered by Archbishop Thomas Luke Msusa(Roman Catholic Bishop of Blantyre, Malawi). The opening session will include the Guest of Honor, Hon. Saulos Chilima (Vice President of Malawi) and Brian Brown (President of IOF and WCF).
Keynote Speakers will include Sharon Slater (The Truth About Comprehensive Sexuality Education) and Don Feder (The Sexual Revolution).
Group sessions on the First Day will include: Comprehensive Sexuality Education vs. Character (Misheck Munthali, Facilitator), The Impact of Pornography on Education (Rev. Patrick Semphere, Facilitator), The Role of Parents in Education (Mr. and Mrs. Alfred Mlekano, Facilitators), and Homosexuality and Family Life (Theresa Okafor, Foundation for African Cultural Heritage). There will also be plen
ary sessions on CSE, pornography, parenting, and homosexuality, as well as reports from Ghana, Kenya, Swaziland and Tanzania.
Day Two will open with Keynote Speeches by Dr. Beatrice Mwagomba (The Truth About Maternal Health and Family Life) and Misheck Munthali.
Group sessions will include: Abortion (Kizito Kaunjika, Facilitator), Contraception, Sexually Transmitted Infections (Moira Chiomombo, Facilitator) and Maternal Health (Dr. Mary Mkandawire, Facilitator).
Plenary session reports will be given on abortion, contraception, STIs and Mater
nal Health.
Keynote Speakers will include: Dr. Garton Kamchedzera (The Truth About Human Rights and Family Life), Victor Kaonga(moderator).
Additional group sessions: Pachalo Kayira (Constitutional Law on Life and Family), the Rev. Nicky Chakwera(Religious Freedom), TBA (Human Rights including the Rights of Children), and Marshall Chilenga (Cultural Rights).
Plenary Session reports will be given on: Constitutional Law, Religious Freedom, Human Rights and Cultural Rights.
A Closing Ceremony Prayer will be led by Rev. Dr. Chatha Msangaambe.
A Reception will be held with Parliamentarians from Committees on Education, Health, and Legal Affairs.

Conference registration for international attendees is $75 usd.  Register online at www.familiesafrica.org.
Calendar of Upcoming Events
November 16-18, 2017 — WCF Caribbean Regional Conference, St. Lucia.  The fifth World Congress of Families Caribbean Conference with the theme, "The Family Development – Strong Families, Prosperous Nations"  Contact information for Sarah Flood-Beaubrun…
November 17-18, 2017, #Teens4Truth Conference, "Countering the LGBT Agenda," Hosted by Professor Dr. Robert Lopez, Southwestern Baptist Theological Seminary, Fort Worth, Texas.   More information and registration…
November 29-30, 2017 — African Regional Conference, Malawi , Contact information…
January 1, 2018 — Celebrate "Year of Families" Budapest, Hungary,  Read more…
 January 19, 2018 – National March for Life,  Washington, DC, USA,  More information…
February 2, 2018 — Movieguide's Annual Faith & Values Awards Gala & Report to the Entertainment Industry.  Read more…
Feburary 16-17 – International Pro-Life Festival, Verona, Italy.  Contact Toni Brandi at ProVita for more information…       
May 11-12, 2018 — WCF Family Forum, Lisbon, Portugal, Honorary Host: Dom Duarte Pio, Duke of Braganza and Dona Isabel, Duchess of Braganza, Contact Larry Jacobs for more information…
May 15, 2018 – Seizing the Future, Protecting the Family, WCF Regional Conference in Nairobi, Kenya, co-sponsored by Kenyan Christian Professionals Association and Foundation for African Cultural Heritage, Contact for more information…
May 15-19, 2018 — Global Home Education Conference, Moscow and St. Petersburg, Russia, More information…
World Congress of Families XII – To Be Determined, Send Proposals and Hosting Bids to ljacobs@profam.org.
—————————————————
Thank You To All of Our World Congress of Families Partners For Your Leadership and Support
African Organization For The Family (Kenya)
Angels of Charity and Music (Peru)
Alive to the World (United Kingdom)
Alliance Defending Freedom (USA)
Latin American Alliance for the Family  (Venezuela)
Associazione per La Difesa dei Valori Cristiani – Luci sull'Est  (Italy)
Black Conservative Summit (USA)
Christian Film and Television Commission
Christian Concern (United Kingdom)
Ethics and Public Policy Center (USA)
Sanctity of Motherhood Program (Russia)
Family Policy Institute (South Africa)
Foundation For African Cultural Heritage (Nigeria)
Freedom's Journal Institute for the Study of Faith and Public Policy (USA)
Georgian Demographic Society (Republic of Georgia)
Home School Legal Defense Association (USA)
Kenya Christian Professionals Forum
National Center on Sexual Exploitation (USA)
National Organization for Marriage
Novae Terrae Foundation (Italy)
Tradition, Family, and Property (USA)
Touchstone Magazine: A Journal of Mere Christianity